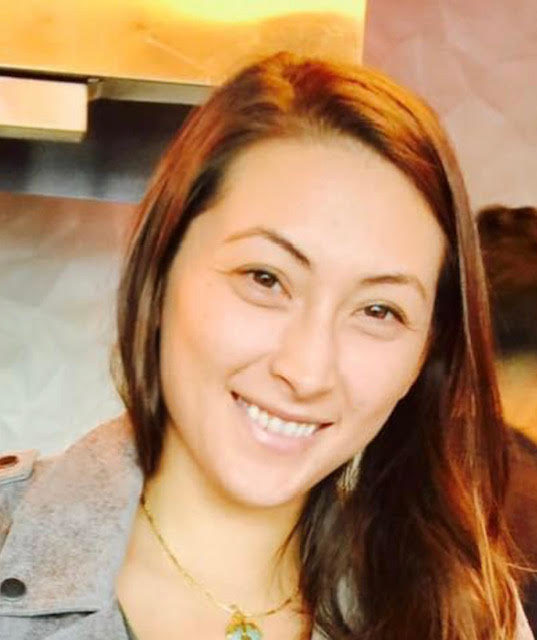 Lisa Lee is an Associate Marriage and Family Therapist (AMFT) at JRM&A! Lisa is an Army Veteran and has a Masters in Counseling Psychology. She uses CBT techniques and has experience working with women, preteens, teens, and the queer community. Lisa is also a new mom and is hoping to draw from her experiences when working with clients who are also mothers.
1. What made you want to become a therapist?
That is such a tough question to answer! I have always been more of a listener than a talker. Growing up my family and friends would always vent to me and I would always enjoy listening and helping them figure things out. It took me a while to finish my Bachelors, picking a major is daunting! I kept asking myself what I wanted to spend my life doing and  it wasn't until after my deployment that I realized that I could make a living out of helping people by listening to them. I spent most of my deployment in the smoke pit playing cards and listening to people's stories and troubles. When I got back I wrapped up my Bachelors and applied to a Masters Program in Counseling Psychology.
2. Do you think mental health is stigmatized in the Military?
Yes, I believe mental health is stigmatized in the military. In society, there is this underlying notion that if you receive therapy or mental health services that is seen as a weakness; in the military that view is more predominant thought. Society has come a long way and just recently started seeing mental health services as a necessary service. The military is coming along but has ways to go to adjust the views on mental health.
3.What does Trauma and Post Traumatic Growth mean to you?
Trauma can be a response to an event that happened. It could have happened directly to you, you could have seen it, or even heard about it and still had a response to it. I think the important thing to remember is that everyone has different trauma and there is no "big" or "little" trauma and trauma experiences can not and should not be compared. Everyone will have different responses to experiences. 
When I think about Post traumatic growth I think about "Kintsugi". Kintsugi is the Japanese art of fixing broken pottery. Instead of throwing away the piece or trying to hide where it was broken, the technique involves using gold to rejoin the pieces together. This makes the broken piece even more beautiful and one can say that it is owning its broken past.
4. What clientele population do you have most experience working with?
I have the most experience working with Women of Color. I would love to gain more experience within the Queer community, children and couples.  However, I am open to working with anyone who thinks we might be a good fit.
5. How do you support clients in their therapy journey?
 I listen to them. Everyone has a different journey to make in therapy. I think the first step is really just listening and validating what they are going through. When my client is ready to progress, I will be there to help them along the way. Therapy is what you (the client) makes of it. I'm here to keep you on track.
6. What is one unique thing about yourself that you would like your clients to know?
Hmmm… Just one thing?!?! ( kidding) I would like to say that through my lived experiences I have been able to relate somehow to most people. I mean, I'm a Queer, Single Mother by Choice, born and raised in the Bay Area, Veteran and a Woman of color. (That definitely was more than one thing… but I think I understood the assignment)
7. What makes JRM&A Therapy unique from other clinics?
JRM&A is unique, to say it plain and simple. I do not know of another practice that sees the type of clients that we do. Military members, Veterans, the Police force, and their families seem to be the majority of our clients. We also see school teachers, new moms and members of the Queer community. I also think that our team is unique itself. We have Veterans, military members who are still serving and civilians. We all come from different backgrounds, have different modalities, different experiences and different beliefs. I myself would say that I am  Queer, a Woman of Color, Army Veteran and Single Mother by Choice. When I look at my fellow associates I see so many differences between us, but also many similarities. We are all here because our drive to help others is first and foremost in our minds. Another reason why JRM&A is so unique is because of Joelle herself. Joelle is a big reason of why I chose to apply at JRM&A. She has many accomplishments and accolades. She pours herself into her practice and it is evident in so many ways. She is always there when I have questions, she is full of wisdom and effortlessly guides me to solutions. She is an amazing supervisor and an example of the business woman I would love to become. Needless to say, ( and I might be biased ) but you're in good hands at JRM&A.
8. What would you say to someone hesitant to use therapy?
I think a lot of people can be hesitant to start therapy. It is hard. Being open with someone you barely know, letting them in to see the good and bad, letting them know your fears and doubts is scary. It is. But the thing I would want to convey is that, I'm not here to judge you. I'm not here to have an opinion on anything you say. I'm here to support you 100%. If anyone will always be in your corner, that's usually going to be your therapist ( and hopefully that's me!)
9. Have you struggled with mental health yourself?
Yes, I struggled with mental health a lot as a child, but in the 90's, as part of an asian family, mental health wasn't a thing. It wasn't until I started therapy as an adult that I saw how my childhood trauma was affecting me as an adult. There were alot of sessions ( a couple years worth) to get me to be who I am today. It was hard. Sometimes the box got open and took awhile to close, but I learned so much about myself in the process that there is no way I would choose to not go through it all again.
More Resources
At JRM&A we lead with compassionate, trauma-informed therapeutic models that are personalized and solution-focused to help support our clients' needs and attain their personal goals.
To learn more about trauma and how to move through Post Traumatic Growth, download our Post Traumatic Growth Road Map!
To schedule an appointment with us, call (650) 386-6753 or visit our website https://joellerabowmaletis.com/contact-us/.